Waffen-SS Armour In Normandy
The Combat History of SS-Panzer Regiment 12 and SS-Panzerjager Abteilung 12 Normandy 1944 Based on Their Original War Diaries, by Norbert Szamveber, Helion Books, 2012, Hardcover, $47.94, 304 pages.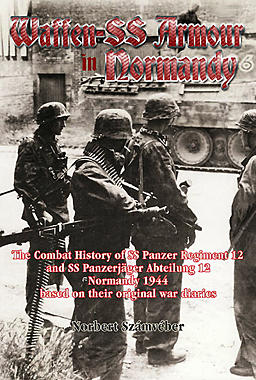 Norbert Szamveber's Waffen-SS Armour in Normandy covers the combat history of the SS-Panzer Regiment 12 and SS-Panzerjager Abteilung 12 during the Second World War's Battle for Normandy France; which lasted from June 6 to just about the end of August 1944.  These two units served as the armored core of the 12th SS Panzer Division Hitlerjugend; a unit noted for both is ferocious fighting skill and at times criminal disregard for the laws of war. 
Waffen-SS Armour in Normandy is organized around its primary goal of providing readers with access to open source publication of the original unit war diaries (Kriegestagebuch and referenced herein as KTB) currently located at the Military History Archives in Prague. Though there are some elements of analysis to be found in this work, the overwhelming majority of the book's emphasis is contained in the transcripts of these war diaries, edited for length of content, and meticulously footnoted by the author where such amendments are indicated.
The book is divided into two parts. Part I delves into the daily combat history of the SS-Panzer Regiment 12 in Normandy until the end of August 1944. This part also includes a detailed look at the unit's organization, training, and the process of equipping the unit; with this treatment focused on the period from June 1943 all the way up to the Allied invasion. This section of the book features copious tables detailing the unit's organization and equipment, deliveries of tanks, tank strength returns on the eve, during, and after all major battles during the Normandy campaign, day-day losses down to the actual tank number and crews, as well as German assessments of damage caused to Allied forces (oftentimes balanced with insight into the Allies own records and allowing the reader to get a balanced look at SS-Panzer Regiment 12's performance). In addition the transcripts offer an in depth look at the tactical and operational level use of not only the unit's Panzer IV's and V's, but where applicable attached units of Panzer VI's.
Part II of the book provides a similar approach to examining the training, deployment, and combat action of SS-Panzerjager Abteilung 12 equipped with the Jagdpanzer IV tank destroyer. In addition, a brief conclusion examines the combat effectiveness of the two units. Voluminous appendices cover everything from the table of ranks and officer list of SS-Panzer Regiment 12; to the assignment of tactical numbers to the Panzer Regiment; weapons inventory in the spring of 1944; Allied aircraft shot down from May to August 1944 by the unit's organic flak batteries; tank strength returns from June to August of 1944; and total Panzer V "Panther" tank losses from June to September of 1944. In addition there are a number of highly detailed maps showing major combat operations, as well as numerous mostly black and white photos.
In short what all of this means is that Szamveber has performed an invaluable service for a researcher seeking a starting point when investigating a vitally important piece of the puzzle in regards to explaining how and why outmanned and overstretched German combat divisions in Normandy were able to hold at bay a far larger and lavishly equipped Allied army for the better part of the summer of 1944. A researcher serious about delving into this subject matter should personally examine the KTB's of SS-Panzer Regiment 12 and SS-Panzerjager Abteilung 12. However, what Szamveber's work does is of vital importance in giving a researcher a detailed look at what they can expect to find in Prague's archives, and thus this book offers an important stepping stone for narrowing down what sources need to be reviewed and analyzed towards supporting a potential thesis of the reader's own.
A further point needs to be made; this reviewer believes that the primary utility of Waffen-SS Armour in Normandy is for English language historians. That said, this does not mean that the book lacks value for the well informed reader possessing a strong base of knowledge regarding the fighting in Normandy during 1944. For instance there are numerous passages that any armored enthusiast would find of considerable interest as follows:
On 11.06. constant heavy artillery fire on the securing positions of the Kompanie until the evening. 15-45 enemy tanks were observed from Rots moving northwards on the Bretteville road…..Heightened vigilance was ordered to be kept on the right flank. Tank no. 425 was damaged in an enemy artillery fire strike, and the radio operator, Schutze Testor was killed….The damaged tank was withdrawn from the securing line and was taken to the maintenance unit for repairs…..Around 1900 hours enemy tank sweeps began on the Bretteville road toward Le Bourg. Unterscharfuhrer Hanitsch's tank no. 438 knocked out a Churchill from 900 metres away. Shortly afterwards tank no. 415 of Leutnant Erich Pohl knocked out a Sherman from a distance of 70 metres and another one from 10 metres….
There is an incredible level of detail and information to be gleaned from this work. However, I believe that the casual World War II enthusiast with only a limited understanding of the war and/or the Battle for Normandy could be overwhelmed by this book. Thus, and before tackling Waffen-SS Armour in Normandy, I would caution any such prospective reader to first attain more than a passing level of familiarity with the fighting in Normandy during the summer of 1944. Overall, Norbert Szamveber's Waffen-SS Armour in Normandy is a valuable addition to the library of any dedicated armored warfare enthusiast.