Stalin's Favorite
The Combat History of the 2nd Guard's Tank Army from Kursk to Berlin Volume 1: January 1943-June 1944 by Igor Nebolsin, Translated and Edited by Stuart Britton, Helion & Company Ltd., 2015, 504 pages, $79.95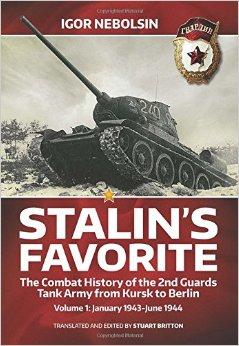 Igor Nebolsin's Stalin's Favorite offers Second World War armored enthusiasts a treasure trove of information about one of the Red Army's top combat armies. One would be hard pressed to find an English language translation of a Soviet army's combat history, and in doing so here the team of Nebolsin and Britton have performed an invaluable service.
As the mouthful of a sub-title indicates this is the first of a two part look at the 2nd Guards Tank Army (hereinafter referred to in this review as the 2nd GTA). This volume covers events from the 2nd GTA's formation late in 1942 up to June of 1944. Stalin's Favorite is organized into seven long chapters, each covering the army's participation in some of the Second World War's most important military operations including: at Kursk (both in defense and during the subsequent Orel offensive north of the Kursk bulge), Sevsk, Vinnitsa and Cherkassy/Korsun Pocket, Uman, and Targu-Frumos/Iasi.
In spite of each chapter's length Nebolsin does a superb job of providing a digestible format allowing the reader to absorb the sea of reports, tables, photographs, and analysis. To that end each chapter follows a near identical format featuring the 2nd GTA's organization and strength (with full TO&E) at the beginning of a given campaign, the objectives assigned to the army, the German opposition, and the terrain. This is followed by daily reports on the army's; movement to the front, prep for battle, and day's combat. Each chapter ends with a detailed analysis of not only each side's losses and efficacy in meeting their objectives, but archival reports describing the army's successes and failures. There are even first hand accounts from the 2nd GTA's officers and men, as well as a description of notable citations won during combat. And this is done for each of the army's major engagements, with a slew of tables (on average ten tables per chapter) provided to help make the text more accessible. And the photographs. There are at least twenty rare pictures within each chapter. Many of these pictures are from private collections, and the photographs alone do much to justify the book's price. The maps are full color and are mostly well done, but are perhaps too few in number considering the sheer volume of content presented here. In addition, there are a few not so minor errors that I was surprised to see on the Kursk map. 
That said Stalin's Favorite represents a tremendous accomplishment. Nebolsin's research efforts must be commended. Not only has he mined data from the Central Archives of the Russian Defense Ministry, but he was assisted in his efforts by one of the 2nd GTA's officers (Anatoly Shvebig). In addition Nebolsin goes out of his way to present accurate information as to the strength and losses of the 2nd GTA's Axis opponents. This is important because, and for instance, it is one thing to read about how many enemy tanks one side or the other has claimed it has knocked out. It is quite another to see what the actual losses ultimately came to be. So when a 2nd GTA report states that on such and such day it destroyed x numbers of enemy tanks, Nebolsin follows up by presenting evidence from the German side of the hill showing that in fact only x number of tanks were written off as permanent losses. And vice versa. In this way the reader gets a better feel for what was actually occuring.
One of the more frustrating things about many books on the Second World War is that when it comes to the aerial war there has been a tremendous effort made by historians to show that claimed kills by fighter pilots were often badly off the mark compared to the actual numbers of enemy machines shot down. Nevertheless, historians examining the ground war often make little effort to differentiate between tanks claimed knocked out, tanks actually knocked out, tanks that were knocked out but retrieved, repaired, and returned to battle, and tanks actually irrevocably lost and/or incapable of being repaired. In contrast Nebolsin shows these differences.
In this vein one of the book's great strengths is in educating the reader on the daily number of operational/serviceable tanks the 2nd GTA put into the field. For someone who might have read nothing but German perspective accounts of these campaigns this is a huge eye opener. The fact is that the 2nd GTA rarely went into battle with more than 150 tanks and assault guns in running condition. And by the spring of 1944, and after months of continuous combat, the entire army was lucky to field 80-90 such armored fighting vehicles on any given day. So though many readers are well aquainted with the fact a German panzer division circa 1943-44 was lucky to put even half the number of it's authorized 180 tanks/assault guns into battle, that same reader often takes at face value a belief that a unit such as the 2nd GTA had two to three times as many tanks on any given day as even a German panzer corps. And at least in the 2nd GTA's case Nebolsin proves that simply is not true.
Another strength of Stalin's Favorite is in the analysis presented. After each campaign we get after-action reports from the 2nd GTA's leading officers explaining in stark detail as to how and why their units performed poorly or effectively. For the armored enthusiast there is a wealth of information presented in these pages. In particular the book does a superb job of covering the first operational deployments of the Soviet IS-Series heavy tanks (and in detail rarely found elsewhere).
In addition, the author is not afraid to defend his research. He aggressively takes on David Glantz - perhaps the foremost English speaking expert on the Nazi-Soviet war's operational military history - regarding the controversy over the composition of the German-Soviet armored forces, as well as their losses, during the spring 1944 fighting in Moldavia and northern Romania.
Stalin's Favorite should be found on the bookshelf of anyone interested in tank warfare, and I highly recommend it to my readers.