New GAO Report Out on F-35 JSF Program: It's Not Pretty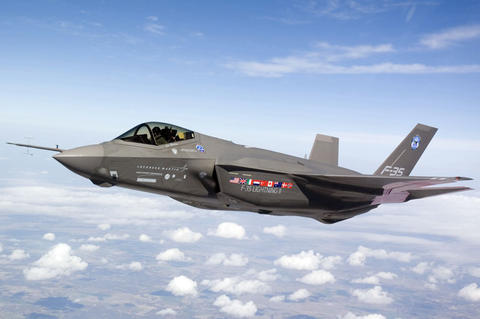 On June 14, 2012 the U.S. Government Accountability Office (GAO) issued its latest progress report for Congress on the most expensive weapons program in history: the F-35 Joint Strike Fighter. Unfortunately, in spite of years of delays, including further restructuring in 2011 and 2012 the result's to date continue to be nothing short of abysmal.
For instance, the GAO has found that:
Regardless of the program development cost overruns (see below) F-35 life-cycle operating and support costs are now estimated at a whopping $1.1 trillion. This means that when comparing the Air Force's primary current fighter-bomber (the F-16) to the F-35A (the Air Force variant of the JSF designed to replace the F-16 in the fighter-bomber role - at least originally, with the F-22's problems the F-35 is now being pitched as an air superiority fighter as well - don't even get me started on this one) we find that the F-35A is expected to cost $35,200 per flight hour versus the F-16's $22,500 per flight hour (both expressed in fiscal year 2012 dollars).
Only 6 of the 11 program objectives for 2011 were met and flight testing is only 21% complete (with none of the more complex flight testing (such as low altitude flight operations, weapons and mission systems integration, and high angle of attack) having been even started.
To date, only 4 percent of the mission systems required for full capability have been verified. 
Full rate production is now planned for 2019, a delay of 6 years from the 2007 baseline.
Unit costs per aircraft have doubled since start of development in 2001. What's more, as of 2011 cost overruns on the first four annual procurement contracts total more than $1 billion and aircraft deliveries are on average more than 1 year late. Program officials said the government's share of the cost growth is $672 million; this adds about $11 million to the price of each of the 63 aircraft under those contracts.
Developing and integrating the more than 24 million lines of software code continues to be of concern. Development of critical mission systems providing core combat capabilities remains behind schedule and risky.
Joint Strike Fighter restructuring continued throughout 2011 and into 2012, adding to cost and schedule. The new program baseline projects total acquisition costs of $395.7 billion, an increase of $117.2 billion (42 percent) from the prior 2007 baseline.
While the total number of aircraft DOD plans to buy has not changed, it has for 3 straight years reduced near-term production quantities, deferring aircraft and costs to future years.
Concurrency costs of at least $373 million have been incurred on production aircraft to correct deficiencies found in testing. The manufacturing process is still absorbing higher than expected number of engineering changes resulting from flight testing, changes which are expected to persist at elevated levels into 2019, making it difficult to achieve efficient production rates. More design and manufacturing changes are expected as testing continues, bringing risks for more contract overruns and concurrency costs. Even with the substantial reductions in near-term production quantities, DOD still plans to procure 365 aircraft for $69 billion before developmental flight tests are completed (Since 2002, the total quantity through 2017 has been reduced by three-fourths, from 1,591 to 365).
If you would like to read the GAO report, and discover even more nauseating details about the F-35 program, then feel free to check it out here.